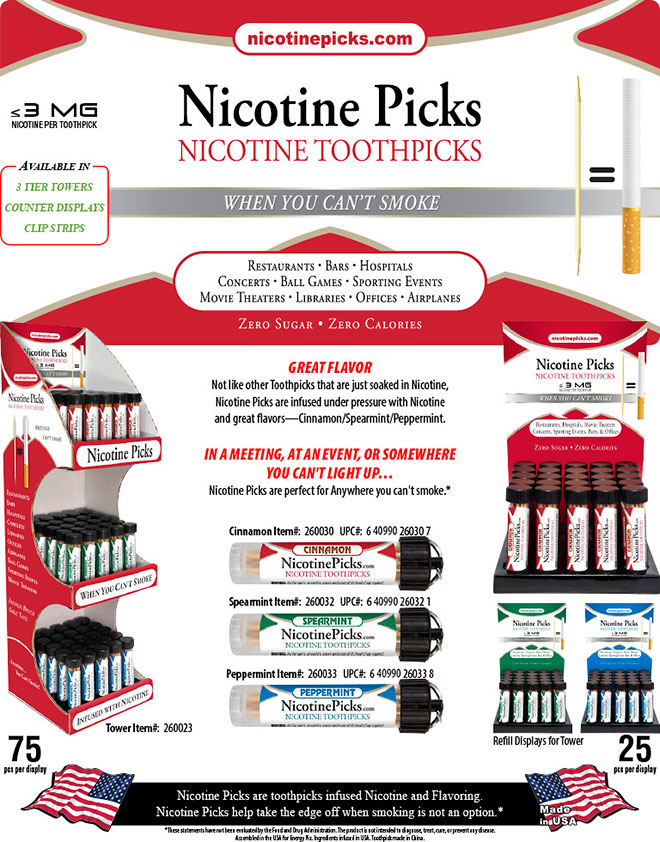 Nicotine Picks™
Nicotine Toothpicks
Item Information
Nicotine Picks are Nicotine Toothpicks with great flavors.
Nicotine Picks aren't your father's Nicotine toothpick. Other nicotine items may not taste very well and don't last very long. Unlike other Nicotine solutions, Nicotine Picks are not soaked in nicotine. Nicotine Picks are infused under pressure so the entire fiber is exposed to nicotine and cinnamon flavor. The results are great tasting toothpicks that typically last longer than traditional nicotine products.* Slightly chew the toothpick to control how quickly nicotine is being released.
Perfect for the times you can't smoke.
Many public places such as restaurants, movie theaters, sporting events, bars, offices, etc. ban smoking and even are starting to restrict E-Cigs (Electronic Cigarettes). Nicotine Picks delivers nicotine to your system for the times you can't smoke or chew
Specifications:
Nicotine Picks Toothpicks are infused with nicotine and various flavors. Zero Calories & Zero Sugar!
Features:
Infused under pressure in the USA
up to 3 mgs of Nicotine
Zero Sugar
Zero Calories
Absorbed sublingually, faster than through the digestive system
Help take the edge off when you can't smoke*
Great Flavors: Cinnamon, Peppermint & Spearmint
Cost Friendly Alternative to other Nicotine Products
Freshens Breath!!!*
20 pc tube with Key Ring

Perfect For:
Restaurants • Bars • Hospitals • Concerts
Ball Games • Sporting Events • Movie Theaters
Libraries • Offices • Airplanes • Commutes Meetings • Parks
Anywhere Smoking & Smokeless Tobacco are banned.


Call 800.370.0317
for Wholesale Pricing
Item Description: GM
Nicotine Picks™ Toothpicks
Tower
Tower Item Number: 260023
Pieces per Display: 75
Cinnamon Item #:
260030
Cinnamon UPC #:
6 40990 26030 7
Spearmint Item #:
260032
Spearmint UPC #:
6 40990 26032 1
Peppermint Item #:
260033
Peppermint UPC #:
6 40990 26033 8

Available in Towers, Clip Strips,
and Floor Displays/Power Wings
Item Description: GM
Nicotine Picks™ Toothpicks
Refill Display Brick
Item Number:
Pieces per Display: 25
Specifications:
Refill Display Bricks for Tower. Available in Cinnamon, Peppermint, Spearmint
*These statements have not been evaluated by the Food and Drug Administration. The product is not intended to diagnose, treat, cure, or prevent any disease.
Assembled in the USA for Energy Pix. Ingredients infused in USA. Toothpick made in China.