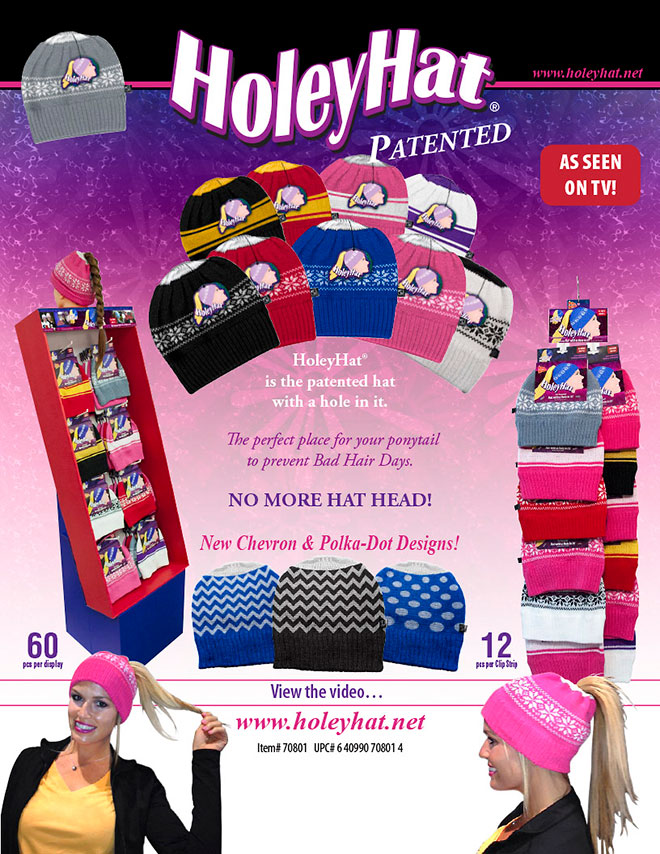 HoleyHat®
Patented hat with a hole in it.
Item Information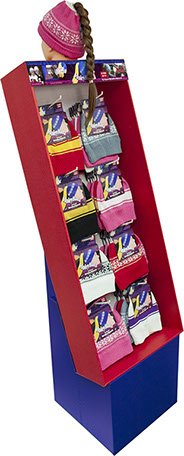 Call 800.370.0317
for Wholesale Pricing
Specifications:
Patented hat with an elastic hole in it. Various snowflake and striped stocking hat colors as seen on TV.
Features:
Elastic Hole for ponytail
Assorted Colors
Available in:
Chevron, Polka-Dot, Snowflakes
and Stripe Designs
Perfect For:
The perfect place for your ponytail to prevent Bad Hair Days.
No More Hat Head!
Sports and Jogging
HoleyHat® is easy to use.
Just reach through the hole with your thumb and finger to pull the ponytail through. Then pull the front of hat down first.
Now you're ready for your adventure with no worries of bad hair.
Item Description: GM
HoleyHat® Floor Display
Pieces per Display: 60
Snowflake Item #:
70701
Snowflake UPC #:
6 40990 70701 7
Striped Item #:
70801
Striped UPC #:
6 40990 70801 4
Item Description: GM
HoleyHat® Clip Strip
Pieces per Display: 12