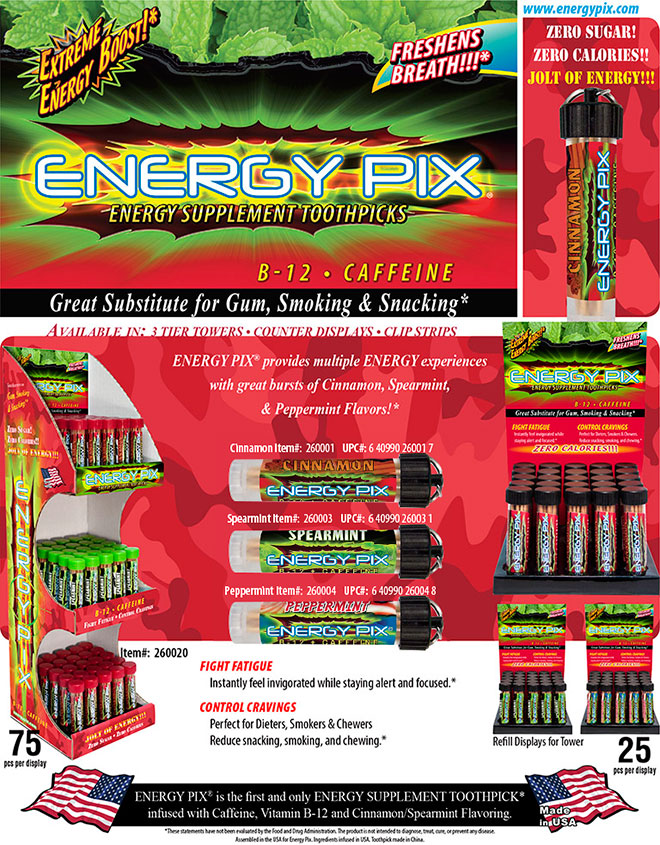 Energy Pix®
Energy Supplement Toothpicks
Item Information
Specifications:
More than just a flavored toothpick. Each Energy Pix® toothpick is infused with Vitamin B-12 + Caffeine. 0 Calories & 0 Sugar!
Features:
Infused under pressure in the USA
up to 7 mgs of Caffeine per Toothpick
up to 25 mcgs of Vitamin B-12 per Toothpick
Absorbed sublingually, faster than through the digestive system
One Energy Pix® = 1 Hour of Energy*
Great Flavors: Cinnamon, Peppermint & Spearmint
Cost Friendly Energy Supplement
Freshens Breath!!!*
20 pc tube with Key Ring

Perfect For:
Jolt of Energy!!!
Fight Fatigue


Instantly feel invigorated while staying alert and focused.*

Help Control Cravings


Perfect for Dieters, Smokers & Chewers. May help reduce snacking, smoking & chewing tobacco.*
Call 800.370.0317
for Wholesale Pricing
Item Description: GM
Energy Pix® Toothpicks
Tower
Tower Item Number: 260020
Pieces per Display: 75
Cinnamon Item #:
260001
Cinnamon UPC #:
6 40990 26001 7
Spearmint Item #:
260003
Spearmint UPC #:
6 40990 26003 1
Peppermint Item #:
260004
Peppermint UPC #:
6 40990 26004 8

Item Description: GM
Energy Pix® Toothpicks
Refill Display Brick
Item Number:
Pieces per Display: 25
Available in Towers, Clip Strips,
and Floor Displays/Power Wings
*These statements have not been evaluated by the Food and Drug Administration. The product is not intended to diagnose, treat, cure, or prevent any disease.
Assembled in the USA for Energy Pix. Ingredients infused in USA. Toothpick made in China.